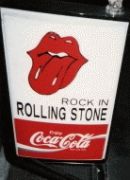 2010.12.25(土) THE BEATLES特集
@
新宿ROLLINGSTONE
GUEST DJ: 田中謙一郎 (Trigger Happy)
DJ: ケンジ、遠藤孝行、渋谷リュウ
19:00-21:00 … No Charge!
21:00-ALL NIGHT … Charge 1000yen / 1D
-About The Beatles特集-
年の瀬にお見舞いする、Stone今年ラストのアーティスト特集は、まさかのThe Beatles!! iTunesにて、13枚の伝説的なスタジオ・アルバムがデジタル音源でリリースされ、新たな映像"THE BEATLES THROUGH THE YEARS"も公開され…2010年もなお新しい存在感を示したパイオニア、The Beatlesの名曲群を軸に駆け抜ける夜!
ROLLINGSTONE
創業37年の老舗ROCK BAR。33年間、新宿三丁目に存在し、現在の新宿五丁目に移転して4年目を迎える。
あらゆる年代のROCKを中心に、ジャンルに捉われず、あらゆる音楽を繋いでいく。
お客さんからのリクエストも受け付けながら、DJが一晩中PLAYするという、唯一無二のスタイルを貫く、新宿のROCK発信地的存在。
是非、お気軽に遊びに来てください。

■address 新宿区新宿5-4-1 QフラットビルB1 Tel 03-3341-6741■
■address tokyo shinjukuku shinjuku5-4-1 B1 Tel 03-3341-6741■
★every thursday 'tutti frutti'
DJ:ケンジ、KEIGO、TOSHI
60's~10'sまで平日ならではの幅も奥行きもある選曲で、騒ぐもよし、まったりするもよしのweekday party。週末にはなかなかかけられないリクエストにもバッチリ応えます!
ROLLINGSTONE社長、TOSHIもDJを務めています。
We are an old rock bar in Shinjuku that has been sounding Rock'n'Roll for
38 years since the opening in 1972.DJs play from the 60's to the latest hit tunes all night long while answering to your requests.Each night of the week has its original color and we assure you'll find your favorite one!
And every weekend is just fun fun fun party! Enjoyable for anybody!
Night after night various kinds of people who escape the magical fun you
can only get here gathers.We're waiting for you to join us.You won't regret it but you'll get addicted! Please come by and have fun!
Let's spend the night together!!
We Play...
The Rolling Stones,The Beatles,Led Zeppelin,The Who,The Kinks,David Bowie,The
Clash,Sex Pistols,The Jam,AC/DC,Aerosmith,The Smiths,New Order,Nirvana,The Stone
Roses,Happy Mondays,Oasis,Blur,Red Hot Chili Pappers,Green
Day,Radiohead,Rage Against Machine,Coldplay,Ash,Arctic Monkeys,The Strokes,The Libertines,Franz Ferdinand,Linkin Park,My
Chemical Romance,Klaxons,CSS,MGMT,Vampire Weekend,Mika,Late Of The
Pier,Underworld,Fatboy Slim,Basement Jaxx,Blankey Jet City,Thee Michelle Gun
Elephant,Zazen Boys,Quruli,The Bawdies...etc
ブログ 音楽全般